Summer Strawberry Pie
Summer is in full swing and we are seeing lots of pictures on Facebook of our friends strawberry picking. We love strawberry picking too and are always looking for recipes to show off our mad picking skills – haha!
This recipe is a crowd pleaser, not only does it taste great but it looks amazing with little 'baking' effort.
Strawberry Pie – Ingredients
Pre-made pie crust – yes, from the freezer section of your grocery store. Sure you can knock yourself out and make your crust from scratch but we're staying out of the kitchen as much as possible these days.
Strawberries – a very generous quart, we may have used more – how could we help it, they looked so good
Jello – One package of 3 ounce strawberry gelatin – we used Jello brand but Royal or a store variety will work too.
Sugar – powdered sugar for dusting the strawberries (1/4 cup – this step can be omitted, see below)
Sugar – granulated -1 Cup. We have been using organic sugar and it has made a HUGE difference in 'setting' up the 'gel' of the pie. If you haven't tried it yet, it is worth it.
Water – 1 Cup
Cornstarch – 2 and 1/2 Tablespoons
Salt – 1/2 teaspoon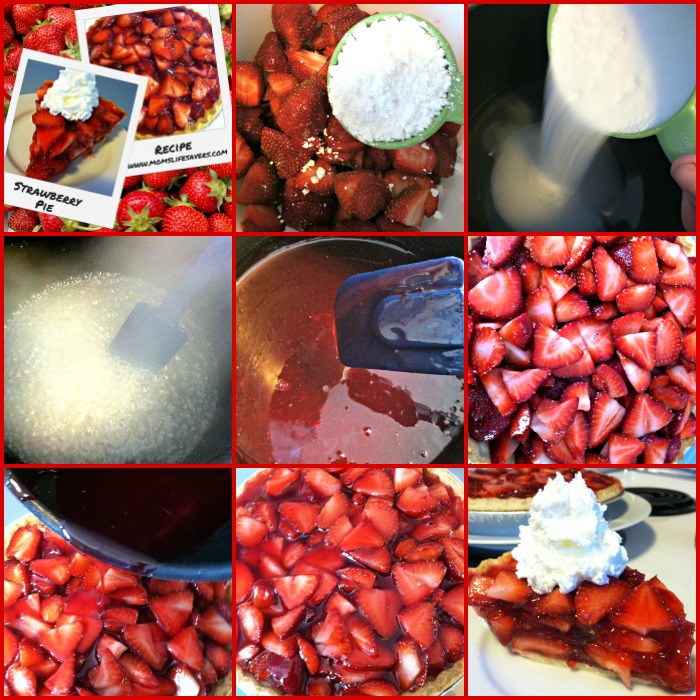 Getting Started
Pre-heat oven and follow directions for baking the pre-made pie crust. Be certain to punch holes in the bottom of the pie shell to keep it from bubbling up while cooking. Allow pie shell to cool.
Wash, dry and slice the strawberries. I like to cut them in thin slices which look great when the pie is sliced. My grandmother always dusted the strawberries with powdered sugar but I have found that if the strawberries are super ripe this is unnecessary, just added sugar (not that I don't have a sweet tooth, but if you are looking to cut out any of the sugar in this recipe, this is the place to do it)
Using a large sauce pan (when working with boiling water and sugar, I tend to go for a bigger pot to keep as much IN the pot and off of me as possible) Mix the granulated sugar, water, cornstarch and salt into the sauce pan and cook on a medium/high setting.
Stir mixture on stovetop to keep from burning, the objective is to get a thickened, almost clear glaze. This usually takes about 5 minutes.
Once the glaze has thickened, remove from the heat
Measure out 1/4 cup of the of gelatin mix and add it to the glaze, mix well and set aside. I actually had to measure this out, I usually just 'eyeball' 1/2 to 3/4 of the 3 oz package.
While the glaze is cooling, placed the sliced strawberries in the pie crust one layer at a time, when you have achieved optimal strawberry layers (can you ever really have enough?) Pour the slightly cooled glaze over the top of the strawberries.
Place the finished pie in the refrigerator for 2-3 hours before serving to fully set.
Slice and enjoy! Add a scoop of ice cream or whipped cream for an added wow factor.