Rye Airfield, Rye, New Hampshire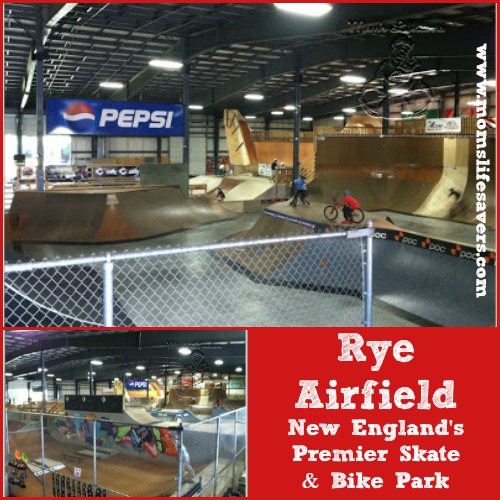 New England's Premier Skate & Bike Park is Rye Airfield in Rye, New Hampshire. Whether your family likes to bike, scooter or skateboard – Rye Airfield has it all!
My husband has always had a love for BMX bike riding that goes waaaaay back, and he has passed that love to our son. Our son has been riding at Rye Airfield since he was 9 years old – and the experience has been great.
Rye Airfield has an incredibly friendly staff that welcomes you, your questions, and wants you to walk away having had an amazing experience at their 50,000 square foot indoor facility!
Our son recently attended Ramp Camp – a full day at Rye Airfield that included everything from stretching, learning the basics (riding etiquette and safety of course!), skills, goal setting and so much more: capture the flag, water balloon catch & laser tag!
From their website (I love this!):
Rental equipment is available along with an amazing selections of parts, wheels, gears and so much more at their Pro Shop.
A Mom's Lifesaver
Now here is the part I enjoy – watching from the wrap around observation deck area. Things getting to loud for you? Or do you have work to do while your child (or in my case, husband) plays?
How about taking advantage of the quiet parent lounge with private bathroom, wifi, air conditioning and television – ahhh, a nice touch!