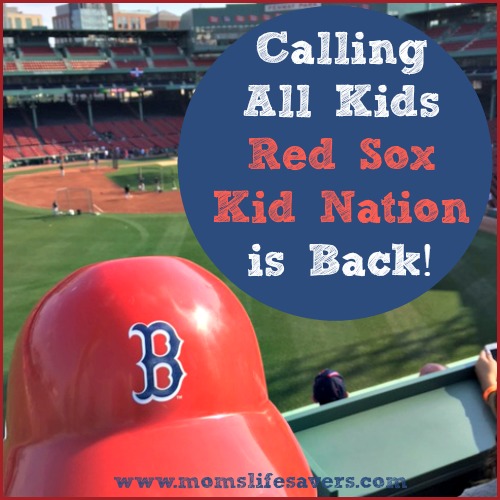 Register the young Red Sox fan in your life for membership in the official kids' fan club of the Boston Red Sox. This is the best way for kids to show their Red Sox pride.
As a thank you to the best fans in baseball, we're again extending our free ticket offer to all members, while supplies last.
Sign Up Today
There are two ways to join: register for a FREE Rookie membership, or step up your game and get exclusive merchandise and benefits with an All-Star membership.
Heading to the park? In mid-May, there will be a new Kid Nation booth added to the Kid's Concourse. This will allow families to sign up for the program via iPads right inside the ballpark.
Included in Free Rookie Membership:
FREE RED SOX GAME TICKET – Each child will receive a free ticket code (one per email) with the purchase of an adult ticket (first 25,000 to redeem)
$50 OFF 2017 RED SOX BASEBALL CAMP ENROLLMENT
10% OFF AT THE OFFICIAL RED SOX STORE FOR THE 2017 SEASON
EXCLUSIVE KID NATION EMAIL NEWSLETTERS
KID NATION PASSPORT
ACCESS TO EXCLUSIVE KID NATION EVENTS
Included in All Star Membership ($39.95):
EVERYTHING IN THE ROOKIE MEMBERSHIP (listed above)
EXCLUSIVE KID NATION BACKPACK
KID NATION BASEBALL CAP
EARLY ENTRY AND ACCESS TO WATCH BATTING PRACTICE
KID NATION EARBUDS
KID NATION LUNCHBOX
Get Your Tickets Early!
Everyone who signs up for Kid Nation will get a free ticket code to redeem, but to get one of the 25K free tickets, you need to actually use the code. Tickets might not be available to redeem later in the season, so get your tickets early – don't wait!
For more information please visit the Calling All Kids website.
#KidNation #CallingAllKids
Mom's Lifesavers is a proud member of #RedSoxParents and #RedSoxMoms