Peppermint Chocolate Clouds
Decadent Cookie Recipe You Will Love!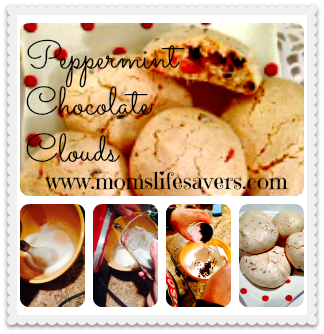 Peppermint Chocolate Clouds are insanely good!
My best friend is a cookie master, especially when making Peppermint Chocolate Cloud Cookies.  These are amazing cookies that will charm your friends and family.  This year, she made this recipe for a cookie swap and all of us at the party were swooning over these little sweet puffs of deliciousness.
You can change up the mix-ins to satisfy your own sweet-tooth.
Peppermint Chocolate Clouds
Ingredients
3 egg whites (room temperature – very important!)
1/2 cup sugar
1/8 teaspoon cream of tarter (we don't always have it, so we often omit)
1 teaspoon vanilla (this is your preference, too…we often omit)
1/2 cup mini chocolate chips
1/2 cup peppermint bits
Preparation
Preheat over to 375 degrees.
Whip your egg whites until frothy.  We love our hand-mixer from Kitchen Aid
Continue to beat while gradually adding sugar.
When mixture is quite stiff, fold in the chocolate and peppermint bits. Gentle!
Drop from a teaspoon onto a greased cookie sheet. Should be a dollop about 1 inch round.
Put in oven.
Immediately turn oven off, and do not open over door for at least 1 1/2 hours, preferably overnight.
Yield 36 – 1″ clouds