Take an Interactive Journey to
the Grand Canyon in
Mysteries of the Grand Canyon
Our book review of Mysteries of the Grand Canyon by author Marie von Minden is unlike any other book we have encountered.
Leave it to a posted picture of our rescue dog on twitter for author Marie von Minden and Mom's Lifesavers to connect. We both share a love of dogs and adventure and the Kristi Kay's stories have both!
In Kristi's own words – "This was when my travel adventures began! Marie and I travel in an Airstream coach and we get to visit and explore some of the most spectacular places in the country. Every day is a new experience! My Adventure of Discovery: exploring new places, hiking new trails, meeting new people and animals, and making new friends!" – from About Kristi Kay
This book is MORE than an Adventure of Cute Dog, Kristi Kay
More than just a story, the book has incredible imagery that appears to lift off the page – a true photographic journey.
The animals that you will meet in the Mysteries of the Grand Canyon, share their story – their history, their habitat and unique behaviors.
The setting too has a story to tell – from native cultures that once inhabited the Grand Canyon to the living history that is there today as part of  a National Park.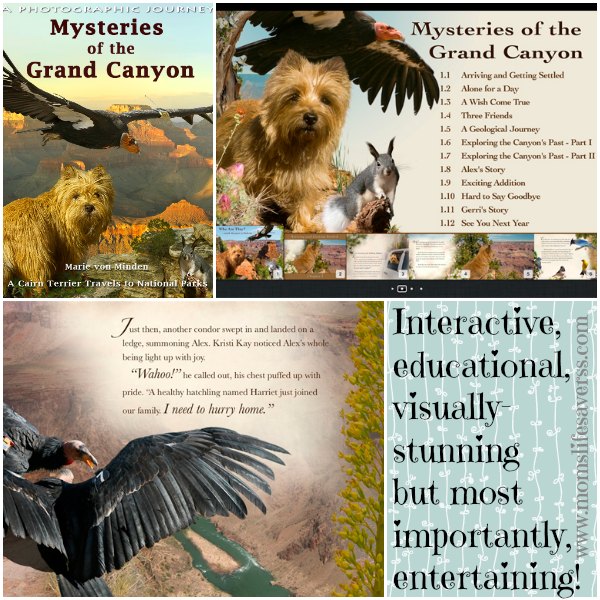 Designed to be viewed on an iPad – this interactive book is educational, entertaining and captivating!
I was using the ebook, Mysteries of the Grand Canyon, as a read out loud with our 2nd grader. When our 6th grader over heard us, he then invited himself on the adventure too. Shortly after, my husband was looking for all of us. Next thing I know, we are all taking turns reading and sharing the story of Kristi Kay and her adventure in the Grand Canyon!
I learned so much in this story, not only about the Grand Canyon but about Albert Squirrels and California Condors! I had no idea about either species and the role they play in the Grand Canyon's ecology.
"For those, who would like to learn more about the issues touched upon in the story, additional information is provided in the Kristi Kay Talks with the Ranger section at the end of the book via interactive media, photo galleries, maps, charts, and links to external websites." – from www.adventuresofdiscoverybooks.com
TIP – If you know any child or classroom that is studying the Grand Canyon – this book is an amazing resource!
An Interactive Experience
Close your eyes and listen – you will hear the birds – yes, you will. The Mysteries of the Grand Canyon offer interactive 'Kristi Paw Prints' that will lead the reader to video and audio elements. These interactive paw prints make it the most engaging eBook that I have ever experienced! Our family is looking forward to more of Kristi Kay's adventures.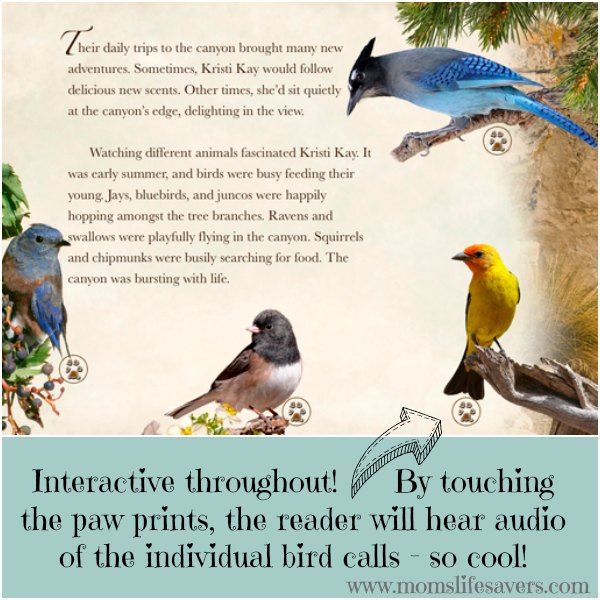 You can get your very own copy of Mysteries of the Grand Canyon on iTunes here.
Follow KKAdventures on Twitter and stay in touch with all the latest information on Kristi Kay and her adventures!
Mom's Lifesavers received a copy of Mysteries of the Grand Canyon for the iPad to review – the views and opinions expressed are our own.