Family Movie Awards Party
It's Award Season, Host a Party!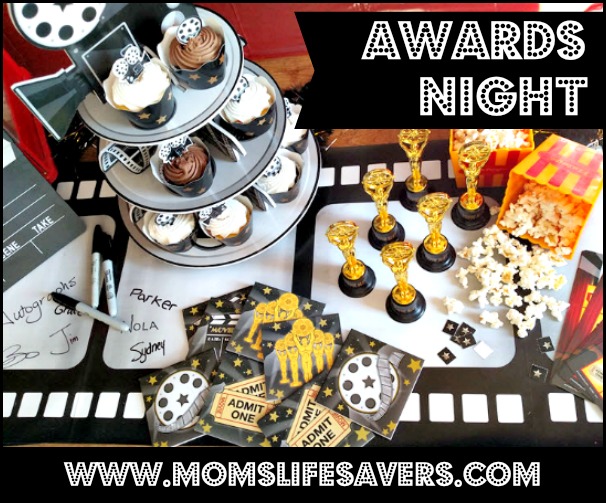 We're in full award season this time of year. Our family loves going to the movies so we host a family movie awards party where the kids vote on all their favorites. We made the family room red carpet ready with decorations from Oriental Trading, served up popcorn and cupcakes and even had swag bags for our guests.
Oriental Trading provided Mom's Lifesavers with movie themed party items to facilitate this review – all opinions expressed are our own.
Setting the Scene
We love this table runner featuring film – it is such a hit with our guests. It is lightweight, laid flat and is perfect for collecting autographs. We put a few markers out so our guests could leave their mark. We also had movie themed notepads for our guests to collect 'autographs' from one another.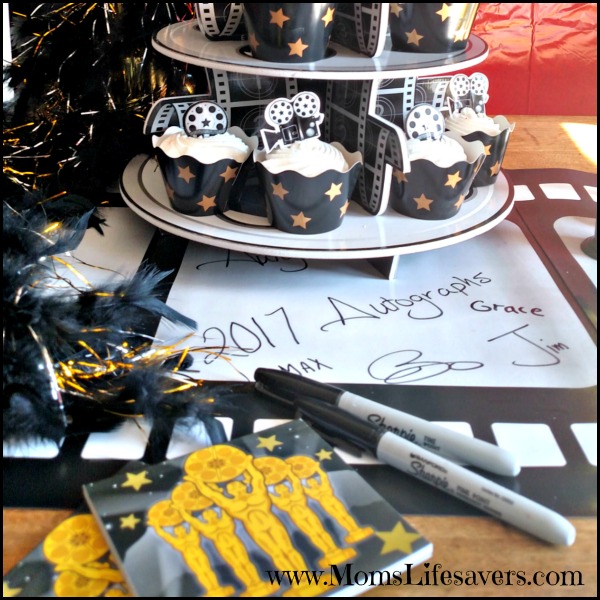 Food & Games
What goes great with movies? Popcorn of course! We popped ours up and served it with a side of 'Movie Bingo'. Bingo is a great family game, the directions are easy to follow and the competition can get fierce.  This 'everything included' bingo card game from Oriental Trading comes with star spots, game cards and bingo call outs. Made of heavy card stock with perforated lines, the game pieces are easy to use.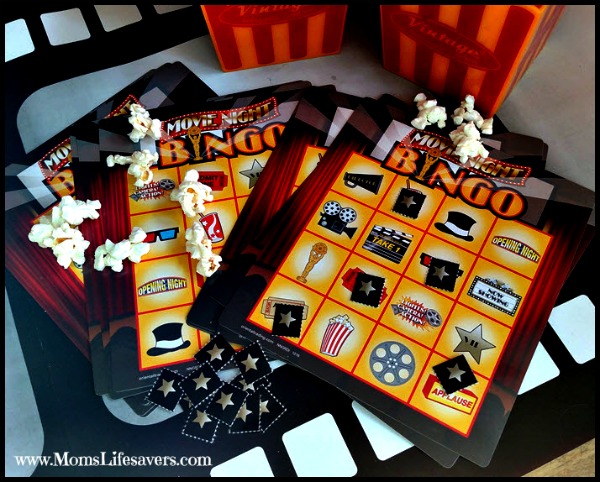 Cupcakes on the Red Carpet
That's right, we used this awesome film inspired cupcake stand from Oriental Trading as the centerpiece of our red carpet cupcakes. This stand arrives flat and goes together in under 2 minutes. Not only is it sturdy when assembled, it looks amazing! We added cupcakes along with some movie inspired decorations can holders.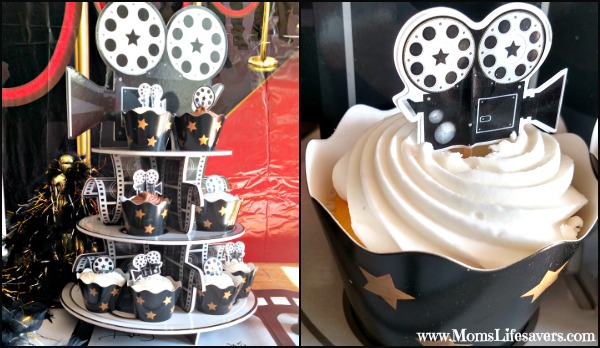 Who Will Win?
Who will win at your Family Movie Awards Party? We used small movie statue awards for our winners – each guest presented an award that they picked and got to keep the trophy.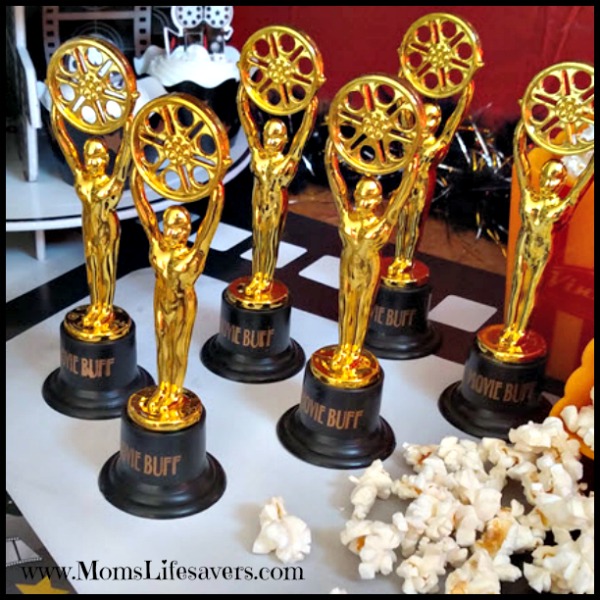 We had categories for even our youngest movie goers to choose from:
Funniest Animated Movie
Most Colorful Animated Movie
Best Family Movie
Movie Closest to the Book
Best Music in a Family Movie
Movie We Had to Buy When it Came Out
Movie We Saw In the Theaters More than Once
The Movies
This year there were sooooo many movies to choose from. We created a list of the ones we used for our Family Movie Awards Party:
Zootopia
Finding Dory
Moana
Pete's Dragon
Trolls
The Jungle Book
The BFG
Kubo and the Two Strings
The Secret Life of Pets
Sing
Rogue One: A Star Wars Story
Fantastic Beasts and Where to Find Them
Queen of Katwe
Alice Through the Looking Glass
Storks
Angy Birds
Kung Fu Panda 3
The Eagle Huntress
Miss Peregrine's Home for Peculiar Children
Movies, Music, Television Shows & More
What will your award party be for? No need to limit it to just movies. Let your guests vote for their favorite YouTube video, television show, music … who wore it best, etc. there are so many options.