Easy Egg Decorating
We found these Plastic Decorating Eggs at Walmart and had to give them a try. I'm not a big fan of the prep work that goes into getting eggs ready for decorating – the boiling the cooling and mess. I'm also more sensitive to egg allergies since we have one in our extended family. Finding this plastic alternative that can be dyed without all the prep work is a real Mom's Lifesaver.
TIP – These are perfect for our friends with egg allergies – no concerns with having these on hand!
We also purchased Dudley's Roll It egg decorating kit.
Click here for a list of where you can find Dudley Egg Decorating kits.
Why We Picked Dudley's Roll It
No need for adding water or vinegar – the kit comes with NON TOXIC PURE FOOD COLORS in liquid form.
Simply cut open and pour the individual packages into a color coded tray.
No mixing or additional supplies needed – EVERYTHING YOU NEED IS IN THE KIT! (Except the eggs of course!)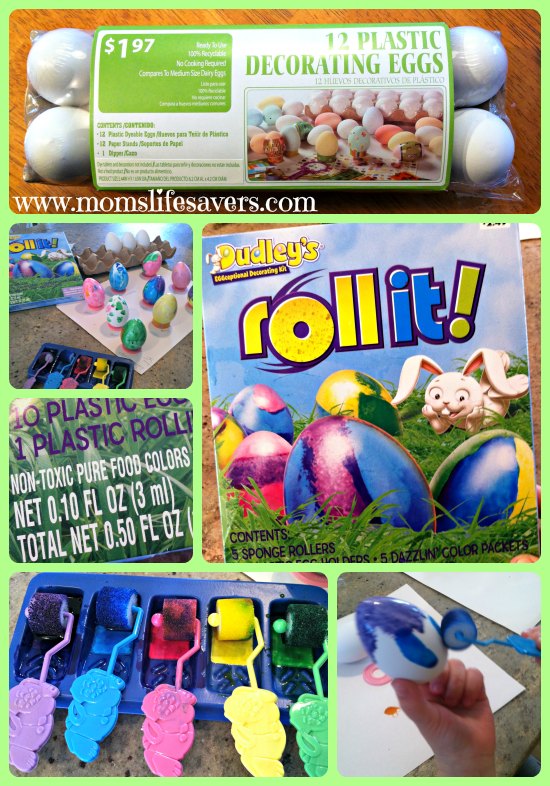 We simply opened the eggs, laid down some paper to work on and to protect our work surface and we were ready to roll!
TIP – We didn't use gloves – you could if you wanted to but we did find that the color cleaned up and off our hands pretty easily.

The Kids had a Blast!
Yes, they did! This was the the easiest egg decorating I have ever done with kids. The eggs dried VERY quickly making them easy to handle and since I didn't have to worry about them breaking or being refrigerated.

 Here are some other Mom's Lifesavers Easter posts you will enjoy!
Peep Surprise House and Peep Pops