Dying Easter Eggs with Rice
We saw a how to on Facebook for dying Easter eggs with rice and had to see if it really was as easy as it looked. The answer, yes it is!
I was skeptical because dying eggs to me as a child meant strong smells of boiled eggs, vinegar and dye. Mom didn't want those dissolving dye tablets on the table, our clothes or our hands – yikes.
At Mom's Lifesavers we understand that making a mess is sometimes the best part of the process!  Dying Easter Eggs with Rice though has a very high 'fun' ratio and a very low 'mess' factor.
What You Need
For Dying Easter Eggs with Rice you will need the following:
Food coloring – we used squeeze tubes in bright colors from McCormick
Eggs – prep fresh eggs as you would for hardboiling or use plastic decorating eggs like we did
Rice – approximately 1 cup per color
Plastic containers with tight fitting lids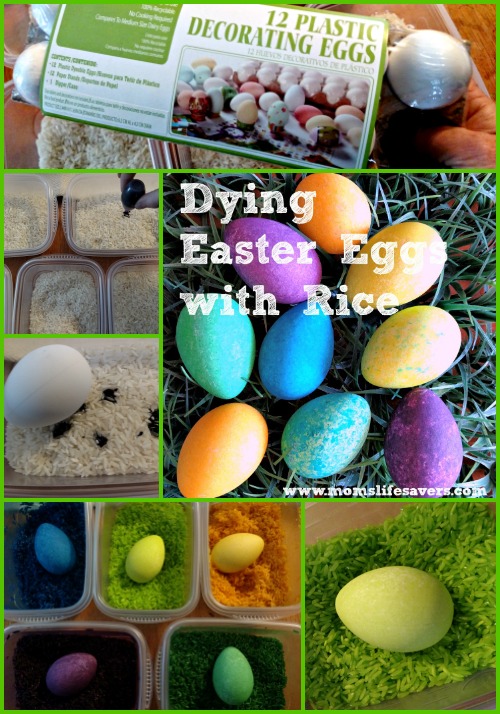 Steps
Fill each container with rice – we used approximately a cup or 1/3 of the container. The egg does not need to be covered by the rice.
Next we added a few drops of food coloring to the rice and an egg
Place the cover tightly on the container and shake
Continue shaking the container until the egg is the desired color you are looking for.  Add additional food coloring if you need to.
Remove egg from container and let dry – it should be pretty much dry to the touch – ours were.
Mix it up – add the dyed egg to another container and repeat the process to get a different multicolored speckled look
Looking for another cool way to color eggs this season? Check out our post on using chalkboard painted eggs to decorate with – your tweens will have a blast making these.