Candy Corn from Treats to Toes!
Candy Corn is such a guilty pleasure for me this time of year.
Do you love it? Do you hate it?
I think there are generally two schools of thought: you either love it or hate it. It really isn't an in-between kind of candy.  When Fall arrives, a bag, or two always makes its way into my shopping cart.
I love to decorate with it too.  Filling glass vases with the sweet treats and using them as pops of color around the house are a great seasonal touch.
Even if you don't love it as a treat be on the lookout for this tri-colored Fall inspiration everywhere this season – especially on Pinterest!
Candy Corn Inspired Nail Art
We grabbed some inexpensive seasonal colors at Dollar Tree and gave ourselves a little pedicure that ended with candy corn colored toes!
Make color stripes the thickness of the brush in each color – start at the bottom and work your way up to the top of the nail.
New Flavors!
I was running some errands and saw these new candy corn flavors at Walgreens. I just couldn't decide which one to buy … so I bought all 4!
There was classic (it will always be my favorite) there was also Apple Pie, Caramel Macchiato and S'mores.
We'll have to see how these new flavors inspire our creativity here at Mom's Lifesavers.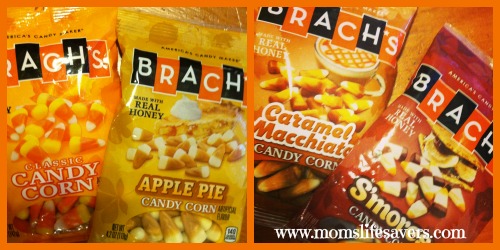 How is it Made?
While I was putting this post together I saw this article on Candy Corn on "How Stuff Works"  This article describes the process of how it is made and amazingly how MUCH  is made each year.
Mark Your Calendar
Did you know that October 30th is National Candy Corn day? Hmmmmm how to celebrate? I'll need to think about that.
Seasonal Tip
Don't forget to pick up an extra bag of candy corn. We love using it for crafting right through Thanksgiving.