New to Kickstarter Bottle Flipping Game Flippin' Off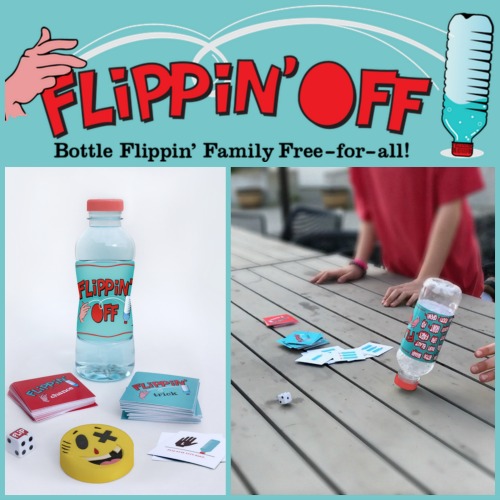 Are your kids flipping bottles whenever they get the chance? Ours do! This craze is now being turned into a game by RedwoodVentures. This new, fun and frantic paced game is all about bottle flipping and learning new flipping skills.
Where can you find Flippin' Off? Kickstarter of course! Check out this link to see all the buzz behind this crowdfunding campaign.
How to Play
First, pull a trick card. If you land your trick, you get to keep the card. The first player to get five cards, wins. But you better be fast, because while your flipping, other players are rolling the die, trying to steal the bottle away from you. Watch out for chance cards and cheater caps adding to the fun. Did we mention that the bottles burp, fart and cheer?
Water Bottle Flipping Craze
"The craze of tossing and landing a partially filled plastic water bottle in an upright position continues to captivate children across the country," says RedwoodVentures CEO Andy Wiseman, who is featured in the introductory video on Kickstarter. "Flippin' Off offers a fun, fast paced and competitive game play experience that takes that craze to an all-new exciting level for kids and adults."
The goal of this crowdfunding campaign, according to , "is to build buzz among kids and adults in advance of an official retail launch later this year". The company is looking to raise $10,000 on Kickstarter
Kickstarter Campaign
The Kickstarter campaign is now live at  Kickstarter  and pledges range from $1 to a $49 levels, with rewards including the game as well as limited edition sticker packs, bottles and pins.
Also be sure to connect with them on social media;  Facebook, Instagram and Twitter