April Fools Day Food – Sweet Tricks
These food tricks are the sweetest kind for April Fool's Day.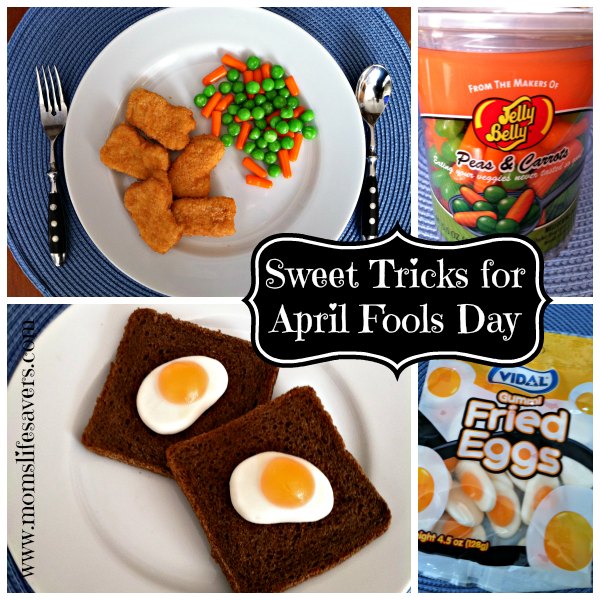 We gathered a few candies disguised as foods perfect for tricking even your smallest family members on April Fools Day.

This can of Peas and Carrots by Jelly Belly we found at our local Marshall's shopping store in the gourmet food and candy section for $3.49.
You can also find them on Amazon here.
We love that they look SO real – especially plated! So very perfect for April Fools Day food pranks. Jelly Belly's Peas and Carrots are proudly made in the USA!
My kids are going to be protesting about eating their Peas and Carrots when in fact they are a sweet chewy candy – ha ha ha!
Breakfast on April Fools Day

This year to pull one over on the kids, we'll be serving eggs sunny side up – I mean GUMMY side up!
We found these gummy Fried Eggs at Dollar Tree made in Spain by Vidal. We also found a brand on amazon.
I'm wondering if our son will squirm when he sees these eggs on his plate!
These gummy Fried Eggs are perfect for pulling one over on the kids. We paired the gummy eggs with some small pumpernickel bread for added effect.
Did Your Parents Ever Play an April Fools Day Food Prank on You?
As a child I was so afraid to eat an egg. It didn't matter how you planned to serve it up – there was no way I was going to eat it – scrambled, hard boiled, in an omelet – nope, not going to eat it. So if eggs were on the menu for breakfast I was allowed to make my own bowl of cereal or some toast for myself.
Then one day, which happened to be the first day of April, my father served me up a big sunny side up egg on my plate. He said there was no other options today.
I cried. Yes, I cried. Dad said, "She can't leave the table until that egg is gone completely." I gasped, gagged and cried some more. I sat there for almost an hour (it felt like 5 hours). Dad just chuckled away cooking up some more eggs for his breakfast. My younger sister quietly sat eating her serving of egg.
Then he finally broke down. Dad told me to stop crying – I guess it wasn't funny anymore – and told me the 'egg' was made out of white chocolate! No wonder my younger sister ate hers without any complaints.
Happy April Fools Day!