Giveaway Necklace! Perfect Gift!
Business Review – Wicked Cool Sea Glass Jewelry
 Bonnie and I are thrilled to be able to offer this generous necklace giveaway to our fans today created by our friend!
This gorgeous, genuine sea glass necklace was created by the talented artist, Coleen Magowan of Amesbury, Massachusetts.

She hand selects her sea glass pieces…devoting her time to walking the local beaches to bring you beautiful hand made jewelry from the sea.
Coleen's mission with Wicked Cool Sea Glass is to find GENUINE surf tumbled sea glass on local New England Beaches and turn it into beautiful treasures. She does not alter the sea glass in any way! It's 100% tumbled by Mother Nature herself.

Personalized Services Available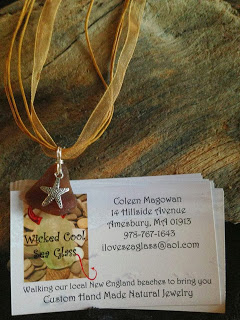 Coleen will also take your personal treasures that you have found over the years and turn them into beautiful keepsakes; like jewelry, wine charms or gifts for friends and family. Whatever you think up, she can create!
Wicked Cool Sea Glass is now having Home parties. Please message her if you are interested. Great way to earn FREE product! 
Custom Jewelry and Gifts Available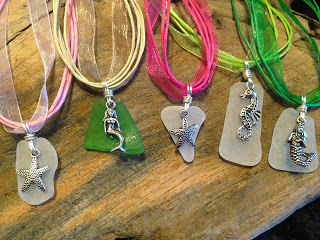 Giveaway Details!  It's as easy as 1, 2, 3…..
3. Comment that you did this and shared on this BLOG POST or FACEBOOK POST  with the Giveaway Offer that you like the pages.
We will select a winner this THURSDAY!